STIVERS SCHOOL FOR THE ARTS
Women's Chorus
Sunday, January 29 @ 4:00pm
 
The music department at First Baptist Church of Dayton is happy to begin the year with a special concert featuring the sensational women's chorus from the Stivers School for the Arts under the direction of Paula Powell.  The Stivers choral program has been celebrated as one of the finest choral programs in the state public school system. The vocal ensembles at Stivers have always received "one ratings" for their annual participation in state-wide choral festivals and conferences. The women's chorus will perform vocal music of all periods and styles in the sanctuary at 4:00 pm on Sunday, Jan. 29.  A free will offering will be taken to help support the vocal music program at Stivers. A reception will follow in the Fellowship Hall. Free parking.
An Organ Recital by
Grant Wareham
Sunday, February 12, 2023 @ 4:00 p.m.
 
First Baptist Church of Dayton, Ohio will present in a special organ recital the highly acclaimed organist and Dayton native, Grant Wareham. Grant studied organ with the late Jerry Taylor who was organist and music director at the Seventh Day Adventist Church in Kettering. He has studied at the prestigious organ schools at Rice University and Yale University. Grant has presented organ recitals throughout the United States and at some of the most celebrated venues in the world. He is excited to return to Dayton which is his hometown and play a special recital on the outstanding unique installation at First Baptist Church. His appearance is made possible by a gift from Tim and Connie Holmen. The concert is free and open to the public. A free-will offering will be taken to support and maintain the organ at First Baptist Church.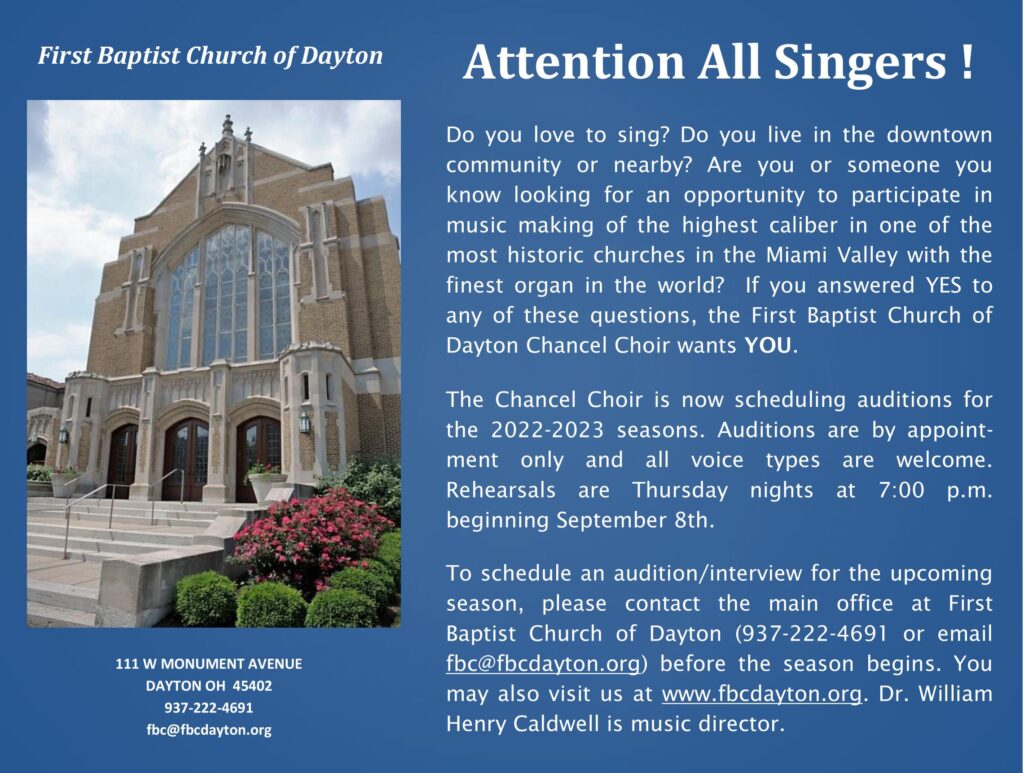 When you come to First Baptist Church you will find an open table.
All are welcome; none are excluded.
Contact Us
First Baptist Church
111 West Monument Avenue
Dayton, Ohio 45402
Email: fbc@fbcdayton.org
Phone: (937) 222-4691
Stay up to date with the most current news & events at FBC Dayton!