If you wish to make a contribution, you can donate online with our Go Fund Me page or you can contact the Church Office for other ways to donate in person or by mail. Thank you for your consideration. 
Email: fbc@fbcdayton.org • Phone: (937) 222-4691 • Go Fund Me

On any given sunshiny day you can sit in our beautiful sanctuary and observe the incredible colors of light from our stained-glass windows bounding off the walls. Such a beautiful gift that our forefathers and God have provided for us.
The thought that went into the creation of these windows back in 1913 must have been an ingenious stroke of wisdom to their creator. The preservation of these windows has been daunting and costly through the years for the First Baptist Church congregation members. The torch of light has now passed to our congregation to maintain the glow of God's light through these beautiful and historic windows. Just in time to help celebrate our 200th anniversary, we are announcing "The Preservation of Light" campaign, a campaign with a goal of $450,000 to help preserve and maintain these windows for the future. This campaign will stretch over a four-year period. With the help of possible grants and your faithful gifts, we will be able to reach our goal and restore the stained-glass windows of First Baptist Church of Dayton to their greatest beauty.
First Baptist Church has not earned her reputation as one of Ohio's historical buildings and most progressive churches for learning and loving God with all mind and heart by accident. Since our modest beginning in 1824, we have been a leader in the Dayton area. The maintenance required to keep First Baptist Church beautiful, historical, and strong is extensive, and we intend to raise the money to allow our beautiful and historic campus to remain one of Dayton's finest. There are multiple ways for you to support "The Preservation of Light" campaign for the First Baptist Church of Dayton. As you pray, fully consider how you are going to help. Please accept our gratitude and thanks in advance.
Per Building Diagram (13 ft. x 18 ft.)
• The existing protective covering will be removed.
• Re-cement the stained-glass window on
the exterior surface.
• Reduce bulged section(s): 3 (at top of the left 3 large lancets)
• Install new steel structural support braces: 3
• Remove loose paint on the outer surface of the millwork. Apply both a primer coat and finish coat of Sherwin-Williams Duration.
• The Klear-Flo™ protective covering system will be installed utilizing a special perimeter frame.
• Glazing bars will be bent to follow the major lines of the framing, thus preserving the exterior appearance of the architecture.
• Window shall be covered with our exclusive Klear-Flo protective covering system utilizing ¼" acrylic.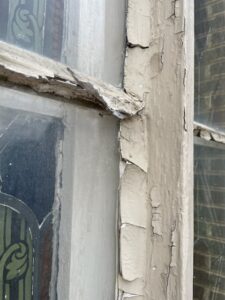 When you come to First Baptist Church you will find an open table.
All are welcome; none are excluded.
Contact Us
First Baptist Church
111 West Monument Avenue
Dayton, Ohio 45402
Email: fbc@fbcdayton.org
Phone: (937) 222-4691
Stay up to date with the most current news & events at FBC Dayton!